Citizenship and Multicultural Affairs Minister Alan Tudge has told a community forum in Perth that white farmers in South Africa who fear persecution can apply to come to Australia under existing humanitarian and skilled work visas.
The largely South African crowd shared with Mr Tudge harrowing stories of persecution and called on the Federal Government to grant white South African farmers humanitarian visas.
Mr Tudge confirmed Home Affairs Minister Peter Dutton was "looking at the program" to see if more South Africans could be brought to Australia, but it is unclear which area of the visa program is under consideration.
But he told the crowd in the southern Perth suburb of Mandurah that there was "considerable flexibility" in the current immigration system.
While Mr Tudge was the government's official representative at the forum, the meeting was also addressed by two Liberal backbenchers who reportedly support a special intervention for South African farmers: Ian Goodenough and Andrew Hastie.
Mr Goodenough told the West Australian newspaper he supported a special refugee intake of around 10,000 South Africans, similar to the Abbott Government's decision to accept a "special" intake of 12,000 Syrian and Iraqi refugees on top of the regular intake in response to the bloody war in the Middle East.
"I don't want to put a figure on it," Mr Hastie told SBS News at the event on Wednesday night.
"But certainly I think the message tonight for the government is that …  the situation is just as bad as reported, and we need to take some sort of action."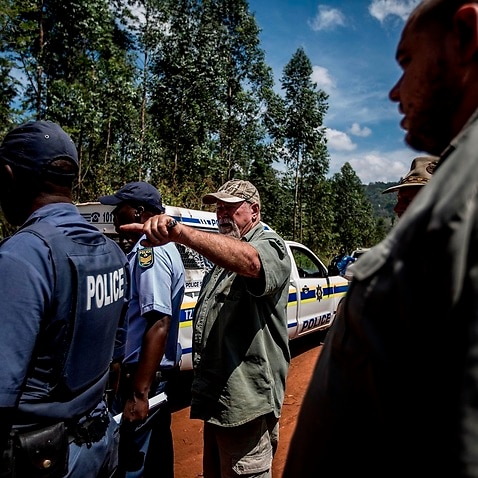 The forum, attended by up to 400 people, was organised last month following comments from Mr Dutton, who said white farmers in South Africa were being persecuted and should be given some kind of special consideration.
Mr Tudge flew over from Melbourne to attend the event and discuss the situation with the audience, with some people travelling up to two hours to participate.
"We would have had probably 400 people here, maybe more," he said.
"It's a very passionate crowd and people told some very emotional stories about the conditions which are occurring to their loved ones, their friends, their family in South Africa."
Mr Dutton's comments sparked an angry rebuke from South Africa, which denied white farmers faced persecution.
Labor and the Greens have accused Mr Dutton of 'dog-whistling' to racist voters by elevating white farmers in South Africa above humanitarian crises around the world.
But the comments attracted strong support from conservatives in the Coalition and at least one crossbench senator, with Fraser Anning, formerly of One Nation, describing events in South Africa as a white genocide.
Mr Tudge would not be drawn on whether any changes were planned in next month's Budget, when changes to immigration schemes can be announced.
"I tried to outline the options which are available under our humanitarian program and under our skills program," Mr Tudge said. "We're a very generous country, and I hope we can also be generous towards those South Africans that may be facing persecution."
Mr Hastie and Mr Goodenough's electorates are both home to large South African expat communities.
Many in the audience shared stories of murders and rapes on South African farms and voiced concerns for their families and friends back home.
Rick Ryan, an Australian-born member of Mr Hastie's electorate, said the community was willing to foot the bill for refugees from South Africa.
"I think you need to be a Philadelphia lawyer to get through some of the red tape that the ministers been talking about with all these different sorts of visas," he said.
"When you've got family members here in the country, who are prepared to fund these people to get them out here, not to have the Australian government funding [them]."
"What are you going to do? Are you going to wait until these people are raped or murdered before you get them out here?"
Australia's refugee intake has already been set for the next few years. There will be 16,250 places this financial year and 18,750 places in 2018-19.
The government unveiled a trial of community-funded refugee visas last year for 1,000 of those places. The scheme shifts the cost of welcoming refugees off the government and on to companies, families and community groups like churches.
Mr Tudge said he would raise the stories shared at the event with Mr Dutton and foreign minister Julie Bishop in the coming weeks.