Former Australian captain Michael Clarke has declared he would consider emerging from retirement should Steve Smith be stripped of the top role.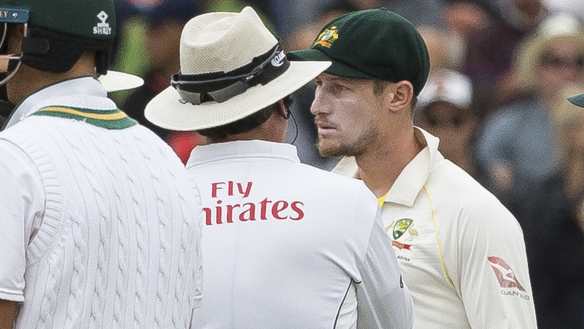 Following revelations the Australian cricket team planned to tamper with the match ball, former players and cricket personalities alike weighed in on social media.
The incident came on the third day of play against the Proteas in Cape Town. Cameron Bancroft used a yellow piece of tape to illegally tamper with the ball, a plan that was devised by the team's leadership group during the lunch break. This included Smith and vice-captain David Warner.
Admitting his team had conspired to cheat on the third day of the third Test, an apologetic Steve Smith said he would not be resigning from the captaincy.
Clarke, who retired after Australia's losing Ashes series of 2015, said he would consider returning – if asked, following the incident which he described as "disgraceful".
"If I was asked by right people, then I would think about my answer," Clarke said on Channel Nine's Sports Sunday.
Clarke said the ball tampering reflected a failure of leadership in Australian cricket.
"Cameron Bancroft, this is his eighth Test match," Clarke said. "I can't believe if the leadership group has made a decision to do this that they've gone and got the young kid … as a leader you can't ask somebody to do something you're not willing to do yourself.
"Steve Smith is such a lovely, lovely guy … I really feel sorry for him.
"We've got the best bowling attack in the world. We don't need to cheat to beat anybody. "
Clarke said it "would not be fair" for him to call for Smith to resign as captain or otherwise.
"I would need to do a lot more ground work before I make that decision. But I can gurantee you this is not a good look."
The controversy has been branded Australia's darkest day since the 1981 under-arm incident against New Zealand. Clarke added: "We see on one of the tweets that this is as bad a dayfor cricket as the under-arm ball – well, the under-arm ball was legal."
Earlier, Clarke was among the initial outpour, pleading that the episode was "just a bad dream," as it was revealed the side's leadership group deliberately planned to cheat.
Can we talk about this? pic.twitter.com/cmpRrOArgD

— Dale Steyn (@DaleSteyn62) March 24, 2018
Former English captain Michael Vaughan took particular issue with the fact that it was one of the side's relative newcomers tasked with the job.
What I find appalling in all this is the Youngster got given the Job .. Was it because someone in the team had been accused of using Hand tape for a similar affect !!!!!!! So they wanted someone else to take the mantle …. Disgraceful behaviour by senior pros … #SAvAUS

— Michael Vaughan (@MichaelVaughan) March 24, 2018
Australian cricket captain has admitted to ordering a relatively new team member to tamper with the ball, against South Africa. He should.

— Peter FitzSimons (@Peter_Fitz) March 24, 2018
Many of those contributing to the social media conversation suggest that given the admitted involvement of the leadership group, Smith's position as captain is no longer tenable.
Laws of cricket: "The major responsibility for fair play rests with the captains…" Smith has admitted not merely cheating, but planning to cheat. Everything else in that ill-tempered series is irrelevant to this. By his own actions, Smith's position as captain is untenable.

— Jonathan Agnew (@Aggerscricket) March 24, 2018
Unfortunately this is blatant cheating and Steve Smith will have to step down as Australian captain.

— Rodney Hogg (@RMHogg) March 24, 2018
So I've watched it all play out this avo. Had a bit of fun with it.

Considered view is that Steve Smith's position as captain is untenable. Has to resign. This will stay with him for the rest of his career.

Yes, they addressed it head on. Fair play. But they had to… (cont)

— Charles Dagnall (@CharlesDagnall) March 24, 2018